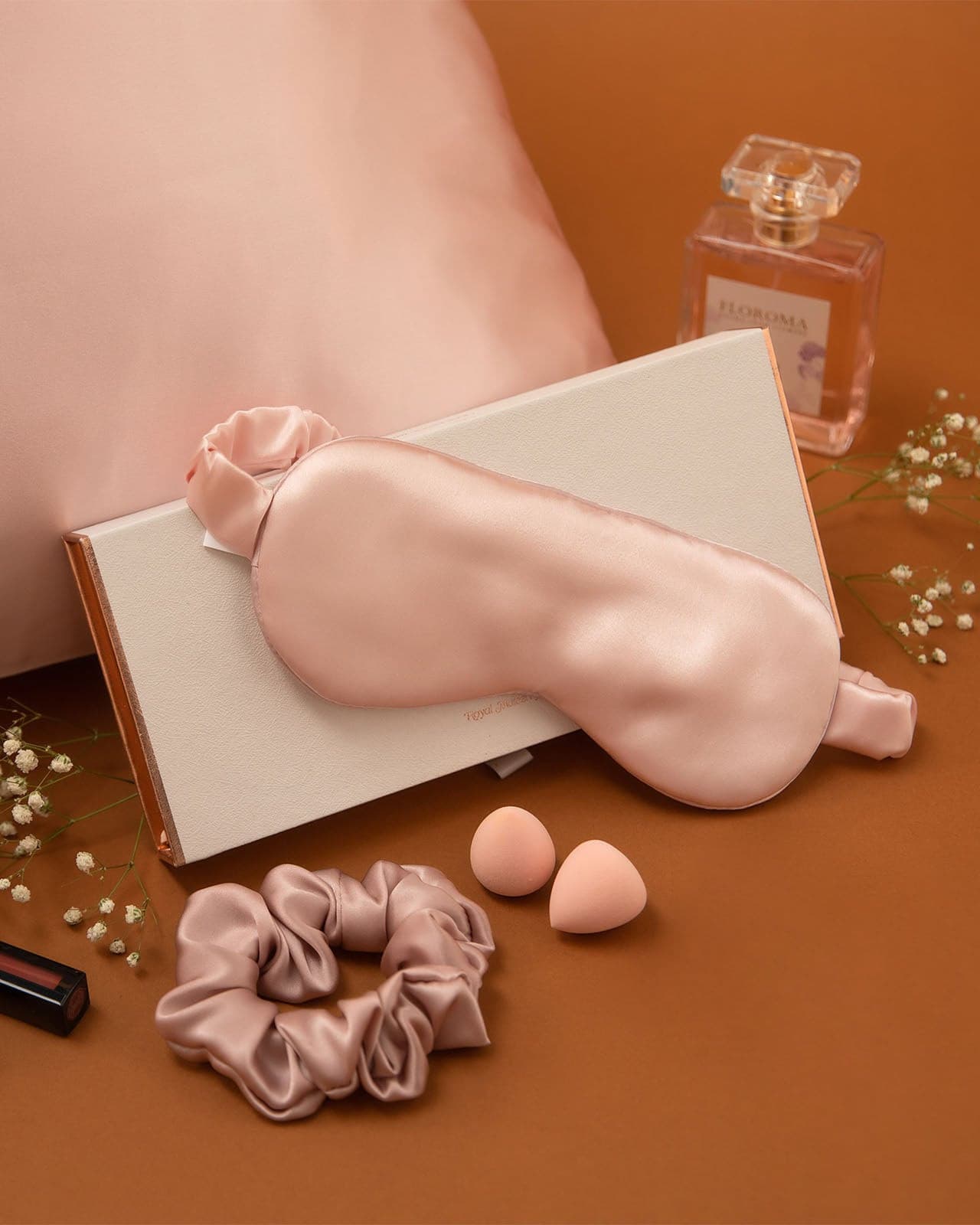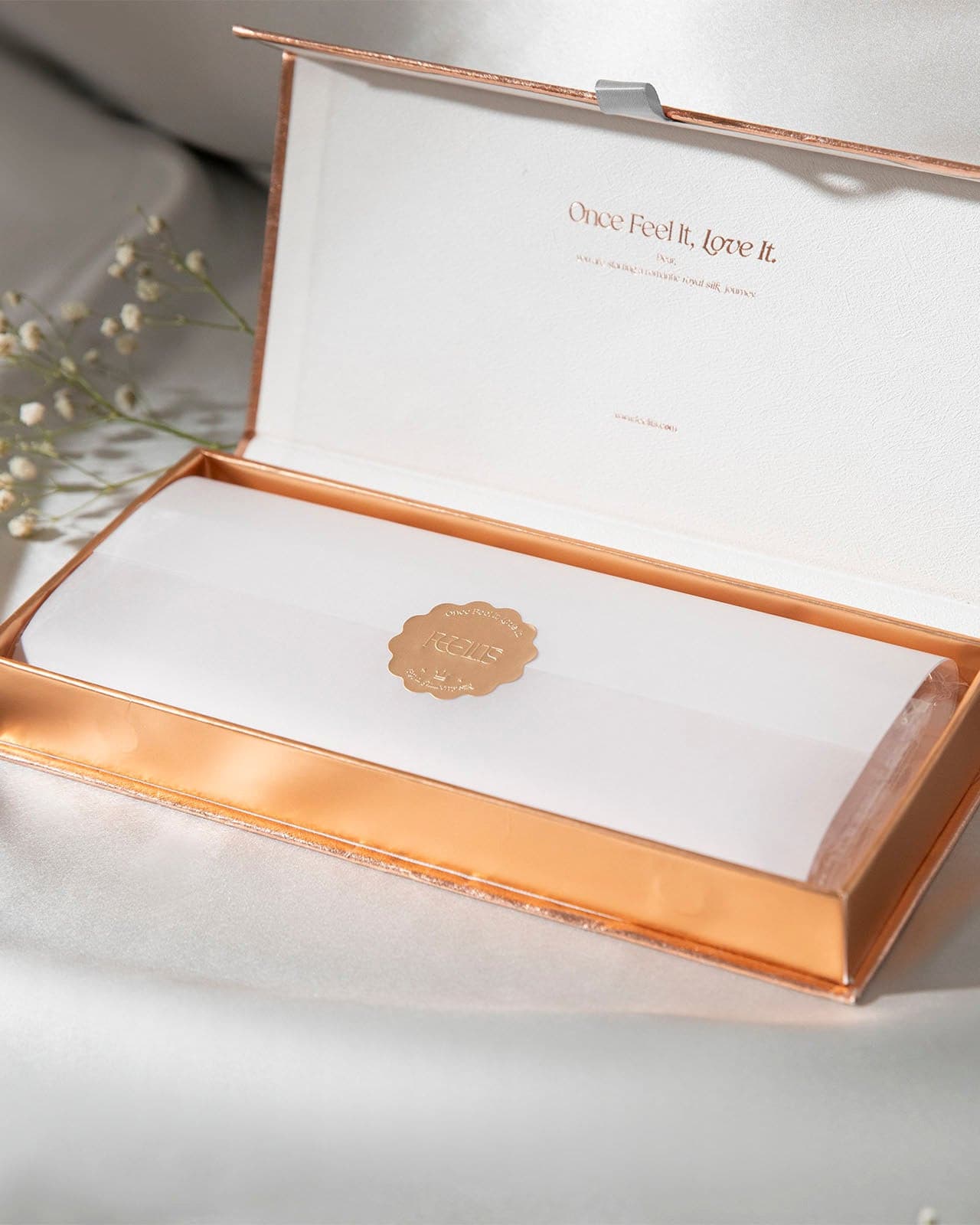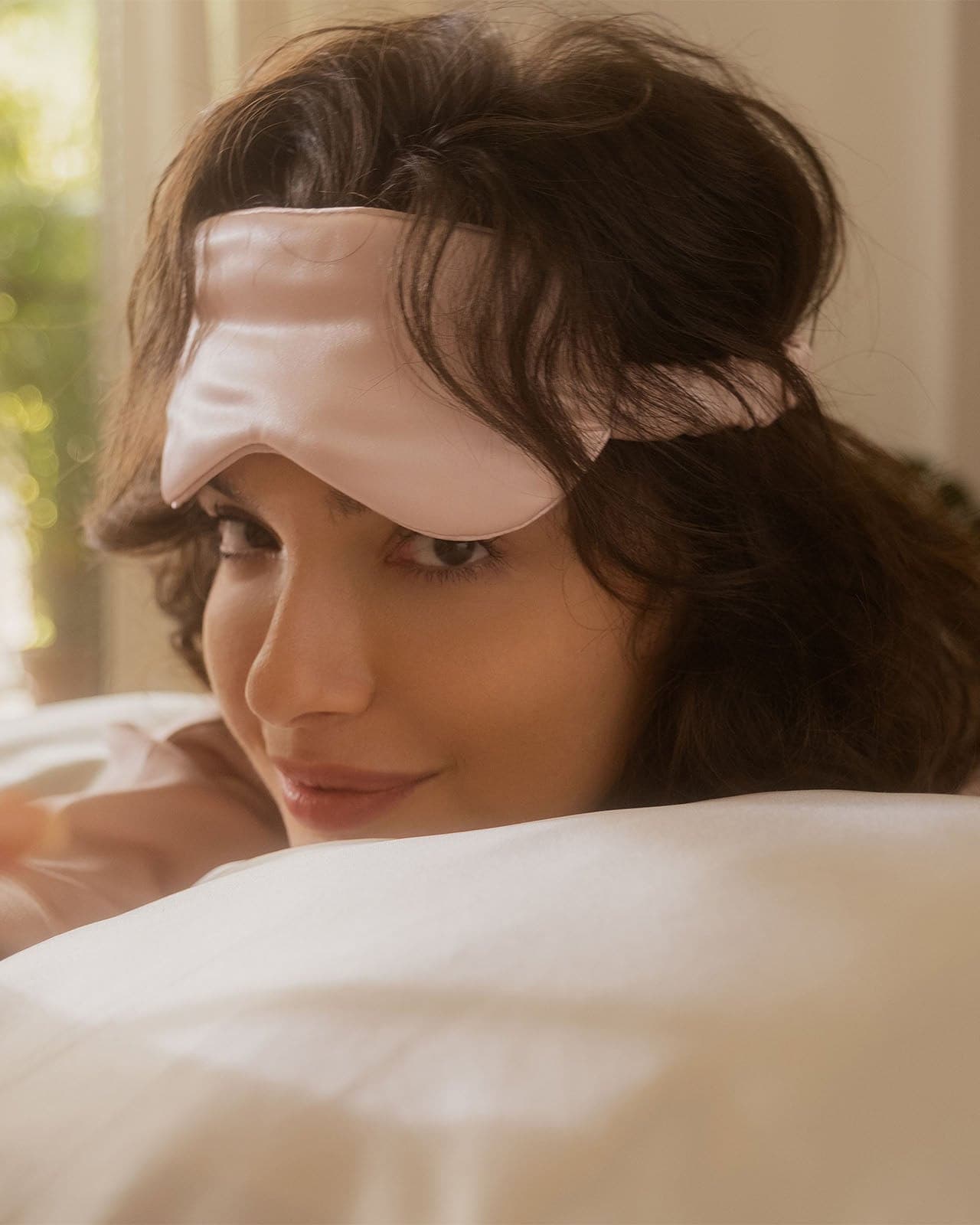 FEELITS 100% Royal Mulberry Silk. Natural Beauty Luxury Gift Set- Padma Pink
Include: 1*pillowcase, 1*sleep eye mask, 2*hair scrunchies. Plus a free bunny pouch.
Feel the innate beauty power of natural protein from deluxe
100% royal mulberry silk

while you sleep, leading all-day shining glittering.
SweetDream: The silk set is beneficial for falling into a deep sleep quickly, get efficient relaxation, relieve psychological anxiety, and allow you to wake up refreshed and revitalized, moving past fatigue.
Natural Beauty: Enjoy a beauty & anti-aging sleep powered by silk fibers (rich in 18 beneficial amino acids), naturally hydrate your face and moisturize your, ideal for skin & hair care. No more bedhead or tired hair!
Save Tired Hair: Designed to avoid hair creases, and prevent hair breakage and unwanted hair damage caused by elastic hair ties and ordinary pillowcases.
Royal Mulberry Silk: ONLY best raw silk, making the highest 6A grade (top5%) silk with 22-momme, unique handmaking, and certified STANDARD 100 by OEKO-TEX®. Skin-friendly and antibacterial.
Perfect Gift: Best gift for her – this special holiday to be made exceptionally special with that special someone.
- Free Shipping On Sitewide(No Taxes/4-6 Business Days Delivery)
-30-Day Money-Back Guarantee (Risk-free Returns)
- Additional 100 Night Trial Promise for Silk Pillowcases & Silk Eyemasks
- P.O. Boxes and Military Addresses (APO, FPO) cannot be delivered.
All subscribe members' orders attached with FEELITS gifts:
Chinese Golden Kungfu Black Tea Bag
This gift will be shipped out with your order.
Transform Your Sleep Experience
For a Healthy & Beauty Life
Everyone spends nearly a third of their time asleep, with their face skins in direct contact with the pillowcases. So pillowcase has a big impact on your health and beauty.
Improve Your Skin And Health While Sleeping.
Not only does Feelits silk pillowcase benefit better sleep quality, but it can also moisturize your face, protecting and preserving your skin at night. Feelits royal mulberry silk fabric has special properties that help fight-acne causing bacteria; allow the skin to retain its natural moisture; and repel allergens, dust mites, and irritants.
Saving Bedhead & Tired Hair
Say goodbye to hair tie kinks and hair breakage by Feelits silk. Natural silk proteins can moisturize and hydrate your hair, preventing the tugging and pulling provided by ordinary pillowcases. Your shining elegant hair would be achieved easily here.
Once feel it, love it.
Why Feelits Silk?
Best Luxury Royal Mulberry Silk
We are based on the strict principles of the royal criteria in Suzhou, choosing the best raw mulberry silk, making the highest grade (6A) mulberry silk with 22 momme thickness, for ultimate silky and care, which had been tested and shown to significantly reduce friction and absorb significantly less face cream.
And all products are certified STANDARD 100 by OEKO-TEX® which tested for textiles' harmful substances and means is friendly to skin.
Senior Craftsmen Handmade
Superior quality silk materials unite with the expert craftsman's tools to create unmistakably stylish silk pieces, generated by meticulous actions and extraordinary manual skills. Our senior craftsmen all own over 10 years of design and sewing experience, they focus on every detail carefully of production and create every product as a proud craft.
Best VIP Services
We provide our customers with a personal silk expert service for health suggestions and solving any product problems quickly. Furthermore, you can enjoy a full 100-night of risk-free use to experience all SweetDream products which means a MONEY-BACK GUARANTEE for any disappointments.
Invent Best From The Clear Differences.
The Perfect Details
Designed as an envelope closure type which means more inclusive and more sustainable than the zipper type.
Beauty & anti-aging sleep
Beauty & anti-aging sleep powered by silk fibers (rich in 18 beneficial amino acids), naturally hydrate the skin of face and leave your hair feeling hydrated and shiny, ideal for skin & hair care and health.
The Perfect Details
Perfect customized adjustable band with the hidden buckle design which offers you the most suited comfortable spa.
Beauty & anti-aging sleep
Beauty & anti-aging sleep powered by silk fibers (rich in 18 beneficial amino acids), naturally hydrate the skin around the delicate eye area, ideal for skin care and health.
Let customers speak for us